Sewer Cleaning Services
---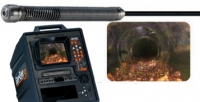 Are you having sewer problems caused by roots, bellied, or unstable piping? You do not know for sure until you see it with your own eyes. Terry's Plumbing can help you find out what the problem is immediately with the Gen-Eye Inspection/Pipe Location System.
Roots Clogs
Tree roots are usually the most common problem associated with sewer lines. Roots typically penetrate clay pipes in multiple places; not just one. Once inside the pipes, roots continue to grow and expand the pipe until it blocks or even breaks the pipe. Once pipes are blocked, this makes chemical treatment of roots extremely difficult as the treatment needs to be able to completely flow through the pipe in order to be effective. If roots have invested a pipe over the course of time, an entire sewer line may need to be replaced.
Bellied Piping Clogs
A bellied pipe or a "sag" occurs when part of the pipe slopes downward creating the "belly". It is usually caused by loose soil around the pipe that breaks up and causes the pipe to slump. When waste water flows through the belly, some gets left behind. This process continues as more waste water and solids begin to accumulate in that portion of the piping. Overtime, the stagnant water and solids create a clog that blocks the flow of the pipe.
Let Us Help Clear Your Clogged Sewer
Terry's Plumbing can diagnose the problem and allow the customer to see what and where the problem lies. Terry's Plumbing has several members of his team that concentrate on just sewers. They are trained professionals when it comes to sewer lines. As a result, they pinpoint the problem so that it is more affordable to fix, by either making only necessary repairs or several solutions for whole sewer line replacement. There is no pressure, no scare tactics, just simple up front solutions with up front prices to fit any budget.