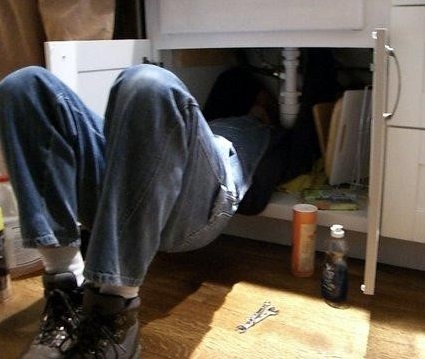 ---
Even if you're a do-it-yourselfer that prides him or herself on your ability to troubleshoot most of your home plumbing problems on your own, there will come a time when it is necessary to call a plumber. Sometimes the job is just too big to handle on your own. Preparing for the plumber's visit will help insure that your emergency is taken care of efficiently and in a timely manner, which can mean a lower bill once the plumber leaves.
Is This An Emergency?
The leaky faucet in your kitchen that's keeping you up at two in the morning can sometimes seem like an emergency when your sleep is being affected. However, it may behoove you to take a step back and really think about whether or not the little problems can wait. Often, most plumbers will charge a higher rate for after-hours service. Nights, weekends and holidays will often cost more for the visit so it's important to do a little bit of research before you call. While looking up info, make sure you know how the hourly rates work as well. Knowing if the clock starts when your plumber leaves the shop or if they start billing when they get to your house can also affect the choice that you make. Knowing the difference in billing can help you decide if you can hold out until the morning – sometimes, it may be better to do so.
Carefully Plan All Calls
If you have decided to call a plumbing repair service, it may be a good idea to check all the pipes, toilets and faucets in your house before having a handyman come out to complete just one plumbing repair. If there are multiple issues that may need to be taken care of, it can be more cost effective to have them all taken care of at one time. Often, a large chunk of time that you're paying for involves the travel time it takes to get to your home. If you can consolidate many plumbing repairs into one trip you can avoid having to pay multiple trip charges. Once you have determined if there is more than one issue that you'd like the plumber to look at, compile them into an organized list so the plumber can identify the issues quickly and efficiently.
Make Sure The Work Area Is Clean
Prepping the areas that your plumber will need to access can go a long way toward lowering the amount of time he has to spend in your house. If under every sink there are a myriad of sponges, paper towels and cleaning supplies that the plumber has to remove this can add precious minutes to the time he is billing you for. All the areas that the plumber needs access to should be completely cleared before he arrives.
Is The Plumbing Service You Called Qualified?
Calling a "friend-of-a-friend who sometimes does a little plumbing on the side" is not always the best choice to try and save money on a plumbing visit. It is possible that the friend that you called could make the problem worse and end up costing you more in the long run than if you had just called a professional directly. When you call your plumber, before asking any other questions, make sure that the professional you've chosen has a Pennsylvania Contractor's License, this way, if anything does go wrong, the liability will not rest on your shoulders.
Having a professional plumber taking care of your issues will insure that the problem is solved quickly and efficiently. If you have any questions about leaky pipes, or dripping faucets give us a call, we can help!