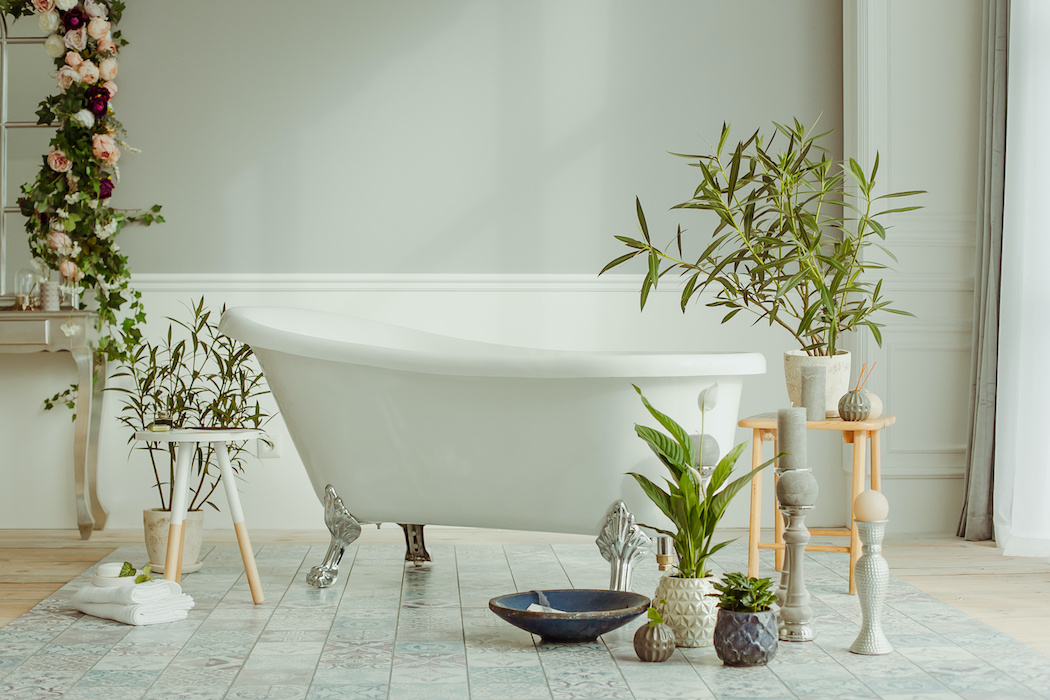 ---
With St. Patrick's Day upon us, a lot of us are in the green spirit. That got us thinking about some of our other favorite green things, like the best plants for bathrooms. What a great accent for any room in your home, bathroom included. There are plenty of low-maintenance plants that won't only do ok in your bathroom, but will actually thrive.  
So, What are the Best Plants for Bathrooms?
In general, you want plants that thrive in indirect or little sunlight, don't require much upkeep and can tolerate a fair amount of humidity. Luckily, there are plenty of plants in a wide variety of shapes, sizes and colors to help you achieve a little greenery in your bathroom. Here are just a few of the best plants for bathrooms.
Ferns
Ferns are one of the easiest plants to take care of and can grow pretty much anywhere. They're a great option for bathrooms because they do just fine in low light and absolutely love humidity. In fact, you can put a fern right inside your shower! While they're a large family, the ferns that do best in bathrooms include maidenhair, bird's nest and Boston ferns. The lighting required will vary by species. 
Aloe Vera
There are a lot of reasons aloe vera makes for the perfect bathroom plant. It will do just fine with humidity as well as temperature changes throughout the year. The one thing you'll definitely need to keep your aloe plant happy and healthy is plenty of indirect sunlight. 
This spiky little plant is great for giving your bathroom a bit of a tropical vibe, but that's not the best part. The juice you can squeeze from its leaves is a great way to treat minor scrapes and sunburn. Talk about handy! 
Spider Plants
This is a great plant for smaller spaces. They require very little, yet can still grow tremendously—up to two feet. Spider plants require very little care, but do best in cooler places with indirect sunlight. One of the coolest things about spider plants is their ability to grow mini plants that you can cut off and pot separately. Put them in other rooms in your house or give them to your friends and family. 
Cast-Iron Plants
This is a true set-it and forget-it plant that's perfect for those still honing their green thumbs. Cast-iron plants do well in very low light and are even fine in the shade. The plants will grow up to 3 feet tall with little effort. Because they do best with moderate humidity, they aren't great for your master bathroom. However, if you're looking to add a little greenery to your guest bathroom, cast-iron plants are a great option. 
Orchids
If you're looking for an extra pop of color, orchids can be a great way to go. First off, there are literally hundreds of different orchid species that do well in varying amounts of lights and require different types of soils. However, all orchids love warm, humid climates which could make them ideal for your bathroom. 
Super Terry Helps Beautify Bathrooms
Now that you've discovered some of the best plants for bathrooms, let's kick it up a notch. Whether you're looking to remodel or need to tackle some emergency services, Terry's Plumbing is here to help! Check out our wide range of plumbing services today.