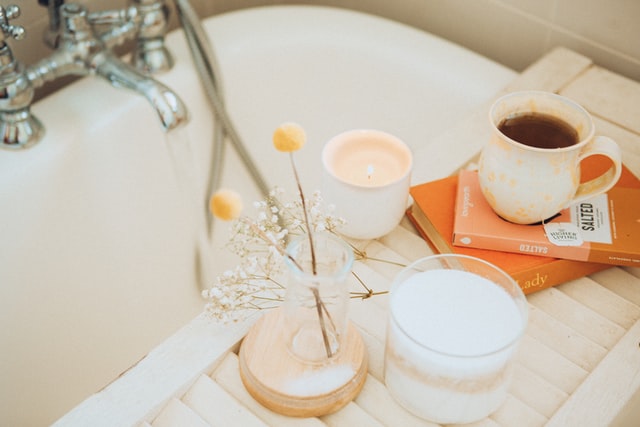 ---
Is it safe to say most of us are feeling a bit stressed these days? We've had to fill our usual parental roles, but also become at-home nurses, teachers and more. That usual weight on your shoulders has doubled—if not tripled. Your to-do list has gone from one page to multiple pages. Who has time these days for a nice, long bath time?
While the last thing you're probably thinking about is taking time for yourself, it's important to refuel yourself so you can continue being everything your family needs you to be. That's why we want to share ways to turn your bath time into the ultimate getaway.
Bath Time #1: Add Some Music
Music can whisk you away to the ends of the planet. If you close your eyes, let the sounds fill your ears and give yourself the opportunity to drift off into your imagination, you can think up your favorite place in the world. 
Would you like to be lounging on the romantic gondolas in Venice? There's a playlist for that. Want to imagine you are basking in the sun next to the ocean with your feet in the sand? No problem, here's another playlist. What would you give to be relaxing in a hot tub up in the secluded mountains, away from the hustle and bustle? We've got you covered with this playlist.
Bath Time Tip #2: 
Set the Scene
We are a visual society, so it's important to set the scene of your at-home getaway. Invest in a bathtub caddy tray, so you have a place to set your favorite book, some scented candles or whatever your heart desires. Pour a glass of wine, apply a face mask, dim the lights and spend as much time as you'd like in the tub. You've done so much work, and you deserve this time to yourself!
Bath Time Tip #3: 
Don't Forget Bubble Bath
A getaway wouldn't be complete without a bubble bath! There are hundreds of options when it comes to buying bubble bath products, but a few scents will help you gain extra relaxation. Lavender is always a good go-to when it comes to soothing anxiety and calming you after a rough day. Luckily, we also have Oprah in this world to help us decide which bubble bath products are the best. 
Call Super Terry With Any Plumbing Issues
If you have a plumbing issue—especially if it's affecting your bath time getaway—give Super Terry a call!