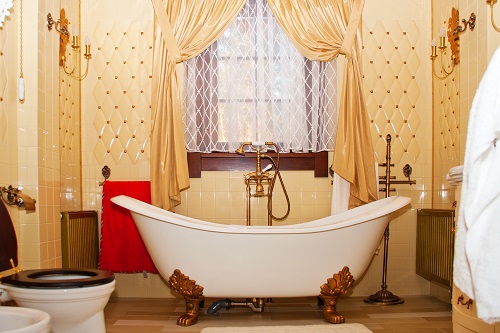 ---
It's almost here. 2019 is just around the corner. With a new year comes new possibilities, goals and challenges. However, when you're in the remodeling business like we are, a new year means new design trends. Bathrooms are one of the most important rooms in the house, and keeping yours up-to-date makes it that much more inviting and attractive when you're ready to sell. If you're planning a bathroom remodel in the near future, here are a few trends to keep in mind.
Vintage Decor is Back In
If you're a follower of trends, then you know history has a way of repeating itself. The 80s have snuck back into the fashion world, and mid-century modern rules the furniture arena. Bathrooms are no different. While we can't point to an exact decade, the vintage vibe is definitely alive and  well for 2019 bathroom remodels.
When you're decorating your updated bathroom, don't overlook unique items from flea markets and second-hand shops. The older the better. In a similar vein, don't be afraid to repurpose old furniture and items you wouldn't necessarily find in a bathroom. Finally, when it comes to fixtures, opt for brass, iron and tastefully exposed pipes.
Materials Make All the Difference
Ceramic tiling isn't exactly a new trend in bathrooms. In fact, ceramic has been a mainstay of bathrooms for a long, long time. However, the era of the plain, square tile is over. Many folks are upping their ceramic game with unique shapes and patterns. Herringbone and subway tiles are both extremely popular and help contribute to that vintage vibe we described above.
Accompanying ceramic tiles are marble, and a newer material we'll get to in a minute. Marble accents are all the rage and usually found in sinks, toilets and even tubs. A new material, terrazzo, is a composite material of marble, quartz and other materials, and is a great accent for showers, countertops and to separate tile patterns.
Wide Open Spaces
A lot of people want to bring the "spa day" right into their homes. To make that possible, a larger bathroom will do the trick. If you're remodeling your bathroom soon, consider expanding it, if you have the room. This is especially important for en-suite master bathrooms that can make a huge difference in your home's list price later on.
Bathrooms should feel like destinations, not just a place to clean up and get ready for the day. Consider installing a separate tub and walk-in shower. If expanding the bathroom isn't in the cards, try some tricks that make it seem bigger. Use bigger tiles and lots of mirrors to make the bathroom feel much more spacious than it actually is.
Start Your Bathroom Remodel with "Super Terry"
Ready to start 2019 on the right foot? Terry's Plumbing offers full bathroom remodeling and renovation services. Explore our capabilities and let's get started building your perfect bathroom!