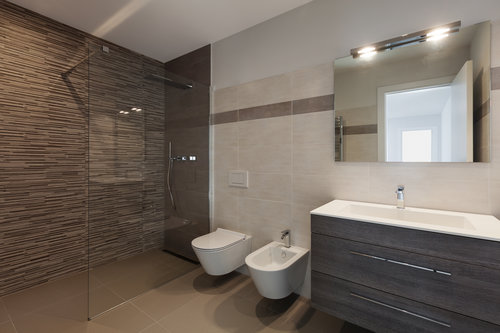 ---
2017 is almost here, so now is the time to start thinking about a bathroom remodel or update for the coming year. At Terry's Plumbing, we have our finger on the pulse of modern bathroom interiors, because we do a lot of plumbing installations for bathroom remodels. In this post, we'll cover some of the most exciting bathroom trends for the new year.
Curbless Showers
Aging in place continues to be important to many homeowners. Curbless showers are safer for seniors who can more easily trip over shower curbs when getting into and out of the shower. Curbless showers are also sleek and beautiful, and have a wonderful minimalist appearance that can add spectacular beauty to contemporary bathrooms.
Natural Materials and Material Combos
Stone and wood are attractive to many homeowners, and they're definitely important materials in modern design. A lot of homeowners in the coming year will look for ways to integrate wood and stone into their home bathroom designs. From backsplashes to bathroom vanities, expect to see a lot of rough-hewn, natural materials and combinations of natural materials in 2017 bathrooms. Eco-friendly homeowners will want to think about using reclaimed materials like reclaimed wood.
Muted and Neutral Colors
Muted and neutral colors go perfectly with the natural materials that many homeowners are seeking to install in their bathrooms. Gray, gray-blue, brown and cream are all the kind of colors you can expect to see in bathrooms in the coming year.
Plant Life
Lots of plants love the humidity of the bathroom. Putting a few live plants in your bathroom can help create a more relaxing and natural environment, where spending time is more relaxing and pleasant. In larger bathrooms, we recommend installing a large plant that can dominate the space and create a focal point.
Green Fixtures
Eco-friendly plumbing fixtures continue to be an important part of home bathroom design in 2017. At Terry's Plumbing, we encourage all homeowners install low-flow toilets, low-flow faucets and energy-efficient lighting to help reduce our impact on the environment. Don't forget that going green helps save money! Installing water efficient plumbing helps lower your home's utility bills and save money over years and decades.
Tiles that Don't Look Like Tile
Tile making technologies have improved! Tiles now come in all different looks and styles. Seeking bathroom tile that looks like wood? This can be done! With wood look-alike tiles, you'll get the appearance of natural wood without the vulnerability to water. Tiles can be made to resemble all kinds of materials, including fabric, stone and brick.
Contact Terry's Plumbing
2017 is going to be big in home bathroom design! At Terry's Plumbing, we sell bathroom fixtures and other materials that homeowners need to upgrade their bathrooms with the latest and greatest. We also do installations and repairs! If you're hoping to make your bathroom beautiful in the coming year, contact us to make an appointment and find out more about our bathroom repair and installation services.