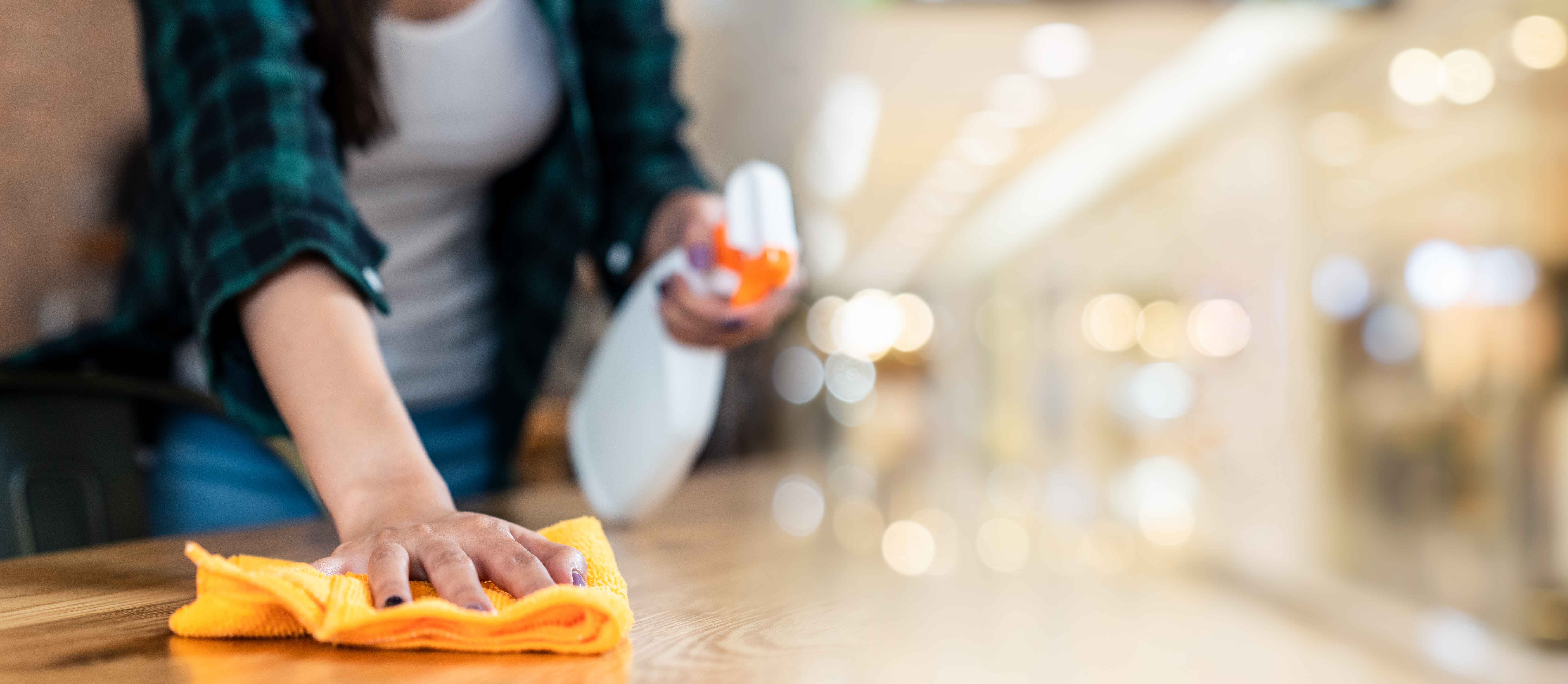 ---
Maintaining your countertops requires more than a simple cleaning! Here are some helpful tips for how to keep your countertops like new, no matter what type they are.
Butcher Block
With proper cleaning and careful use, a classic butcher block can last a lifetime. Just like pots, pans, and other kitchen tools, a butcher block must be cleaned after every use. Daily cleaning doesn't take long, nor does it require special tools or materials. However, time is of the essence if you don't want your butcher block to stain. The longer a mess is left on the counter the more the wood grain will absorb and become discolored.
To clean your butcher block countertops, first scrape away any remaining food residue. Then wipe the counter down using a sponge and dishwashing soap. To sanitize your countertop, it's recommended to use undiluted cleaning vinegar as it doesn't leave behind a strong, pungent odor.  
Tile
Unlike natural stone and laminate, tile offers endless creative possibilities for your kitchen countertops. Though it's budget and DIY friendly, it has its own set of drawbacks as tile can easily stain, chip, or crack. Maintaining tile countertops is a breeze, but they do require a minimum amount of care to retain their good looks.
After meal preparation it's best to wipe down the countertop with a damp sponge or washcloth soaked in a dish soap and water mixture. If the countertop needs some extra TLC, use an all-purpose kitchen spray to remove stubborn grease and grime. An old toothbrush also works well to scrub away food remnants and stains from grout lines.
When cleaning it's best to avoid acid-based cleaners or commercial cleaners that contain mineral acids. These cleaners can damage the surface of stone tiles and may remove the protective coating from glass or ceramic tiles.
Marble
This beautiful, popular kitchen and bathroom countertop option is pricey and durable–yet it still has a delicate side. That's why it's crucial to protect your investment by caring for your marble correctly. Everyday cleaning is so simple–you can use a stone cleaner specifically tailored to marble or you can save some cash and use pH neutral dish soap mixed with water. It's highly recommended to avoid abrasive cleaners or products that contain acids such as vinegar or lemon juice.
Quartz
Unlike natural quartzite which must be sealed on a regular basis, quartz does not require any sealing in order to resist stains, mold, and mildew.  This makes it a very popular choice for those renovating their homes. 
Though quartz will resist permanent staining when exposed to liquids like wine, tea, and soda, or fruit and vegetable juices, it's important to wipe up spills immediately. The best way to take care of fresh messes is with mild dish soap and a soft cloth. For dried messes or heavy stains, your best bet is using a glass or surface cleaner with a nonabrasive sponge and a little elbow grease.
Granite
To maintain its glossy shine, granite should be cleaned regularly—and carefully. Granite can actually be damaged by many of the products and techniques that are safe to use on other kitchen surfaces. It's best to avoid any kind of acids (i.e. citrus and vinegar) or ammonia-based cleaners–you should also steer clear of using scrubby sponges and steel wool. The best cleaning method is using dish soap and water applied with the soft microfiber cloth. Another option is to buy a cleaner specially formulated for granite, or you can make your own at home with a base of rubbing alcohol.
Call Super Terry Today
Are you looking to give your kitchen or bathroom a bit of a facelift? If so, give Super Terry a call, we can help you with any plumbing related projects during your next kitchen or bathroom renovation.