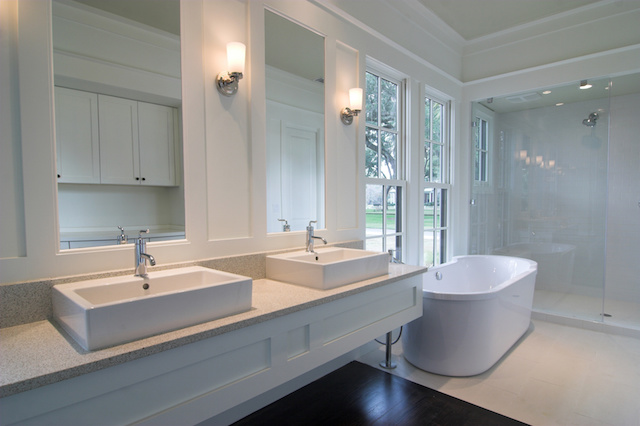 ---
You're finally going to remodel that bathroom you've been wanting to remodel since you bought your house. You've picked the paint. You decided to go with a free-standing tub and walk-in shower. You're going to go with a beautiful tile floor, with a matching backsplash. You picked a nice long vanity with his and her sinks. Only one thing left to do… pick the fixtures!
Price
Price is an important consideration before introducing you to the different types of fixtures. Fixtures, literally, come in all shapes, sizes and prices. Also, for the most part if you find a look you really like, you can save a bit on cost by going with a cheaper material. Sure, you want your fixtures to be beautiful, but is it worth your weight in gold? Probably not. Find a sweet spot of quality, price and style.
Types of Shower Heads
For the sake of this post, let's limit fixtures to faucets, shower heads and sinks. Let's start with the different types of shower heads to choose from.
Wall-mount

Hand-held

Rain shower

Body spray
These four types of shower heads provide completely different shower experiences. It comes down to personal preference.
Picking a Sink
There are hundreds of types of sinks out there. A popular one for bathrooms is the vessel sink, but you can get a giant bowl, a shallow rectangle, or many other types of sinks. Again, it comes down to preference and style of your bathroom.
Don't Skimp on the Faucets
Pick a quality faucet. Trust us. A good faucet goes along way in conserving water, as well as helping to prevent leaks. If you go with a cheap faucet you may have some sink repair ahead of you in the near future.
Contact Terry's Plumbing
Do you need to make upgrades to your bathroom? Contact Terry's Plumbing! As your reputable plumber in Pittsburgh, we can help you make your bathroom more like a spa in the coming year. Call today at 412-364-9114.