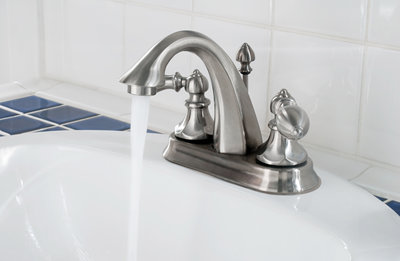 ---
So, a faucet is a faucet, right? Wrong! Faucets come in all different shapes, sizes and mount styles. Picking a faucet can easily take hours if you don't know the advantages of each different style. In this post, we'll talk about the different benefits of each type of faucet, what the different materials look like, and which type of faucet matches up with which type of sink.
Wall Mounted Faucets Vs. Sink Mounted Faucets
Wall mounted faucets make counter cleanup very easy, and also look great in vintage-style settings. Sink mounted faucets can be a little more tricky to cleanup, because crumbs from the counter and the sink tend to get caught in the cracks around the faucet.
Arched Faucets
Many modern faucets (particularly kitchen faucets) form a high arc that leaves a lot of space between the top of the faucet and the bottom of the sink. The great advantage of arched faucets is the room the arch leaves for filling pots with water. Be careful buying an arched faucet if your sink is beneath a low cabinet or a window ledge, as this can limit the size of the faucet.
Double Vs. Single Handled Faucets
Single handled faucets enable the cook to turn on the water and adjust its temperature with one hand. If you do a lot of multitasking in your kitchen, this is a very helpful feature. Double handled sinks enable you to make more sensitive adjustments to the water temperature, which makes it easier to achieve the water temperature you truly desire.
Each Sink is Different
If you already have a sink pre-installed in your home and you don't plan to replace the sink at the same time that you replace your faucet, then your options are already limited by the style of sink you have. Sinks typically come with holes where the faucet can be mounted. Sinks can have no holes (for a wall-mounted sink) or as many as four holes (accommodating two handles, one spigot, and a side sprayer).
Note that a faucet that uses fewer than the available holes can still be used, provided that the faucet comes with an escutcheon plate to cover any excess holes.
Different Faucet Finishes have Different Advantages
There are many different types of faucet finishes. They range in color, shininess, availability, expense and durability. If you're only replacing the faucet or the faucet plus the sink, you'll probably want to pick a faucet finish that matches the other fixtures already in the room. Below are a few examples of the different types of finishes that are available to you:
Polished nickel: Polished nickel is a silvery-smooth finish. This material can seem to change color in different qualities of light.
Oil-rubbed bronze: Oil-rubbed bronze has a traditional, natural aged appearance that looks a little like it belongs in a Tuscan farmhouse or rustic country setting. Oil-rubbed bronze is developed chemically and can vary in hue and appearance from one brand to the next.
Matte black: Matte black is a deep black color that can stand out in white rooms. Matte black closely resembles cast iron, which conveys the appearance of solidity and strength.
Polished brass: This distinctive golden faucet looks great in vintage settings and in rooms decorated in warmer colors.
Satin brass: More subtle than polished brass, satin brass has a softer, less shiny finish.
Contact Terry's For Faucet Purchase and Installation
At Terry's Plumbing we sell and install sink faucets! If you're looking for your next faucet, we'll be happy to discuss options and show you different styles. Call us today to make an appointment.