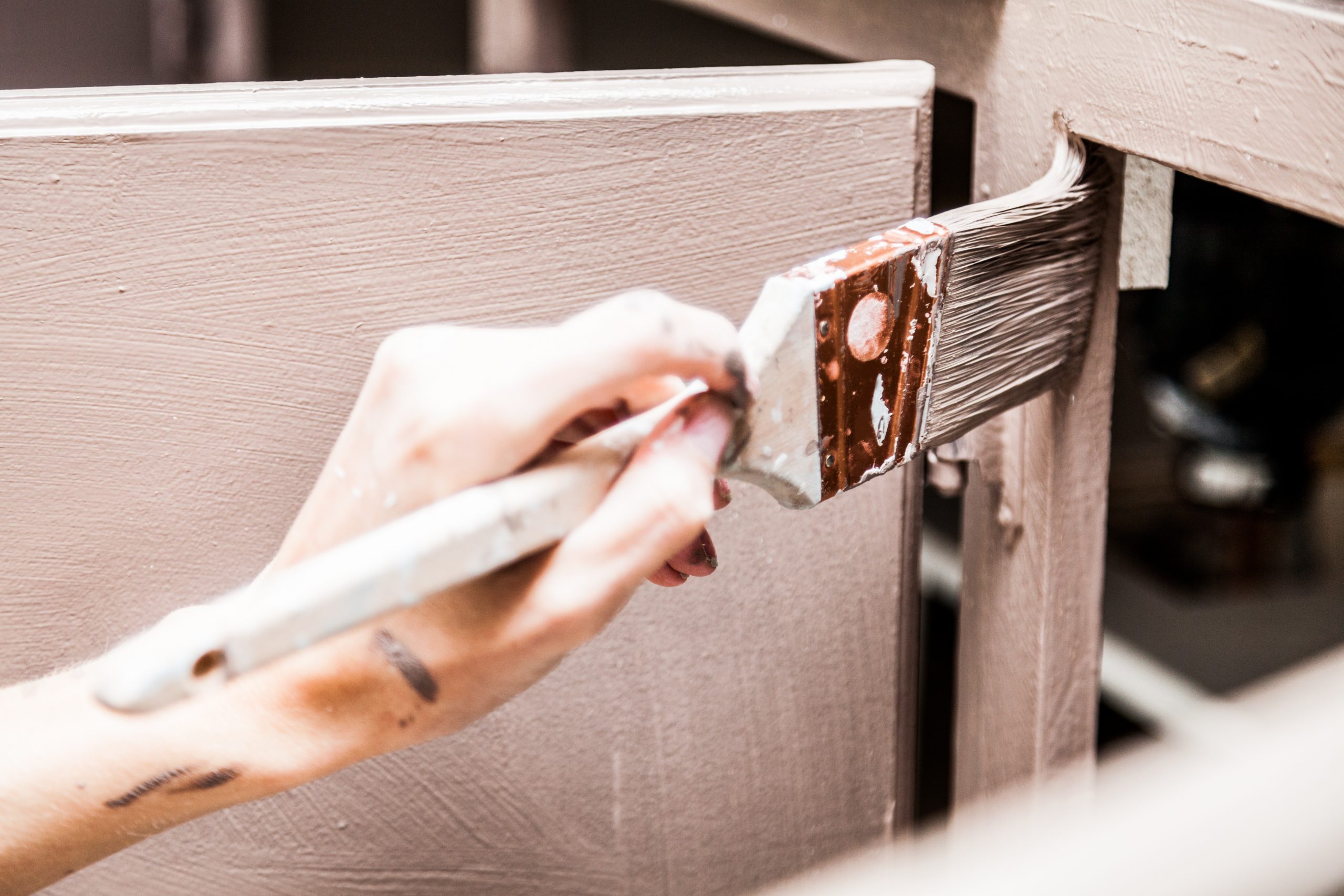 ---
If your kitchen needs a facelift but you're on a strict budget, consider painting your kitchen cabinets. Cabinets cover the bulk of the wall space in a kitchen, so a fresh coat of paint or a new color can drastically alter their appearance. With that being said, potential project mishaps can produce imperfect results and waste your time and money. Therefore, you should do some planning before picking up that paintbrush. To achieve a pro-quality paint job on your kitchen cabinets, take these 5 things into consideration.
 1. Not all Cabinet Surfaces can be Painted
While there are many different types of cabinet surfaces, you should think twice before flinging paint on some of them. Cabinets made of open-grained woods, like ash and mahogany, have a visible grain that can alter the finish of your paint job. When putting paint over these types of wood that have a visible grain, it creates permanent grooves and a less than smooth paint job.
Peeling surfaces are your worst enemy and covering them up with a new coat of paint won't solve the problem. If the existing paint on your cabinets is peeling in large flakes, there could be an underlying moisture issue in your home. Your best bet would be to remedy the moisture issue first before painting, otherwise you risk the new coat peeling. Depending on how old your home is, flaking paint could also lead to lead exposure. If your home was built before 1978 there's a chance it was painted using lead-based paint. If so, flaking paint can release lead dust into the air and breathing in that dust can be harmful.
2. Remove the Cabinet Components for a Full Coverage Finish
If you paint your cabinets with the doors still hanging on the frames, you're probably going to miss some spots or get paint on the hardware. For the best results, empty your cabinets and remove the doors and hardware (hinges, knobs, and pulls). Then prop up each component you're painting on painters' pyramids. Doing so will allow you to cover every edge and corner with an even coat of paint–giving a seamless look once finished.
3. Don't Skip Sanding
To help roughen the surface so that the paint adheres better, you'll need to sand or degloss it. If your cabinets are made of wood or wood-like laminate, use 180 to 220-grit sandpaper to lightly sand the surface. However, if your cabinets are made of glossy laminate or even metal, you'll have to degloss them instead of sand them. Deglosser is a chemical formula that acts like liquid sandpaper, it goes on with a soft cloth and then sits on the surface for 20-30 minutes. Once it's wiped off it removes the gloss from slick surfaces, leaving it course and ready to paint. Although sanding and deglossing is time consuming and can take a day or more, it's a crucial step in the painting process. Once the process is completed, it's recommended you wipe down all of the painting surfaces with soapy water to remove any dirt, grease, or dust left behind.
4. Don't Skip on the Primer
You can't just pick up a paintbrush and slap some paint on your cabinets, before doing so you have to prime the surface. Primer improves adhesion of the paint coat to the surface and prevents premature peeling. The best type of primer to use depends on your surface, below are the recommendations:
Bare wood: If you're painting bare wood it's best to choose an oil-based primer. These types of primers keep any tannins in the wood from bleeding through your paint layers and staining them.

Unpainted laminate: It's best to pick an oil or water-based bonding primer, which are designed to stick to glossy surfaces.

Unpainted metal: The only primer option in this case is an oil-based primer made specifically for metal.
5. Picking the Proper Paint
When deciding between latex-based paint and oil-based paint you need to consider your priorities. Oil-based paint is more moisture and stain resistant in addition to producing a long-lasting paint job. The only downside is that oil-based paint can take up to a day to dry completely and contains harsh chemicals. On the other hand, latex-based paint dries in only a few hours and is available in non-toxic formulas–this is beneficial if you have allergies or are sensitive to strong smells. The downside, latex-based paint isn't very durable and can easily scuff, crack or peel.
Lastly, it's all about the finish! When choosing paint look for cans that are labeled for interior use, ideally in a semi-gloss finish. Semi-gloss finishes give your cabinets an attractive sheen and make the surface easy to clean. On the contrary, flat and eggshell finishes tend to be duller and harder to scrub clean, while gloss finishes emphasize brush marks and other flaws in your cabinets.
Get Super Terry Today!
If you have a more flexible budget that can accommodate a kitchen remodel give Super Terry a call. Our skilled technicians can help you every step of the way, contact us today for an estimate on your project.