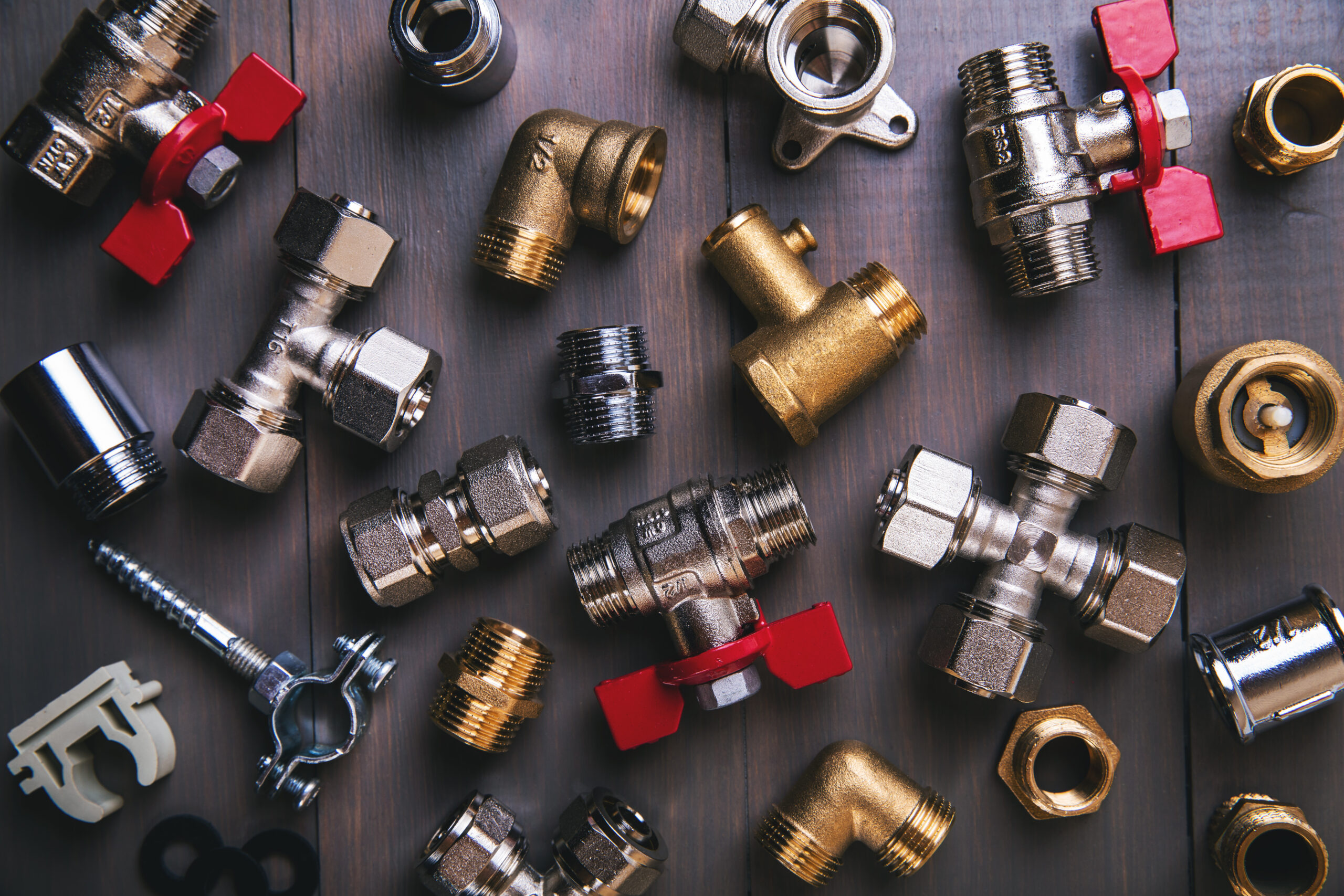 ---
Using pipe fixtures, fittings and other components, people have come up with some pretty interesting and cool DIYs made from plumbing materials. Check out some of these awesome DIY project ideas that you can make with Brass, PVC or copper pipes and fittings.
Desk Lamp
A cool desk lamp can be fashioned from a standard light kit and various plumbing fixtures joined together. The key to the piece is the offbeat base, made of a ½-inch Bluefin floor flange screwed into a chunk of wood. You can wire the lamp through the pipes as you assemble it, then attach the socket, connect the wires, and add the perfect finishing touch: a steampunk-style bulb.
Shoe Rack
So much footwear, not enough space? You can build all kinds of shoe storage with plumbing fittings, either by themselves or in combination with boards. You can create a piece with four 12-inch-wide wooden boards (the ideal depth for shoes), at whatever length suits your space, plus some straight piping and floor flanges. After tightening the threads to put the pipe and flanges together, center them on the boards and secure them with screws through the holes in the flanges. Then boom! You have a stylish new shoe rack.
Cabinet Hardware
Hip hardware can cost a pretty penny at big box hardware stores. But, DIYing a sleek, minimalist set of drawer pulls and cabinet knobs out of plumbing materials will only set you back only about 20 bucks. Each drawer pull can be made from a straight pipe a few inches shy of the length of your drawer (½-inch diameter feels best in the hand) plus two 90-degree elbows and two ½-inch flanges. For each cabinet pull, you can use a ½-inch tee and a ½-inch flange.
Bar Cart
To make your parties portable, why not construct a rolling bar cart. To build a cart all you have to do is start from the bottom shelf up, first by marking the spot where you'll put the wheels. (Tip: Make sure the holes in the flanges do not match up with the holes drilled into the bottom shelf for the casters. This way, the two sets of screws won't interfere with each other.) Thread in iron pipes tall enough to accommodate your bottles, and continue adding pipes and boards until your bar is two to three shelves high. Attach the casters and, finally, a handle so you can steer that nifty booze bus wherever you want!
Curtain Rods
These cool curtain rods let you carry your room's industrial style from floor-level furnishings all the way up to the ceiling. It requires a pipe long enough to extend a few inches beyond the width of your window, plus two ½-inch flanges, two ½-inch 90-degree elbows, and two ½-inch close nipples. Measure and mark where you want to install the rod. Then, insert wall anchors, and screw one flange into place, adding the close nipple and elbow. Next, attach the second flange on the opposite side of the window. Attach one side of the long pipe and slide on the curtains before attaching the close nipple and elbow to the other side to secure the pipe—and fabric—in place.
Get Super Terry!
If you live in the Pittsburgh area and want a plumber that you can trust, contact Terry's Plumbing. We'll be happy to help with plumbing projects around your home.