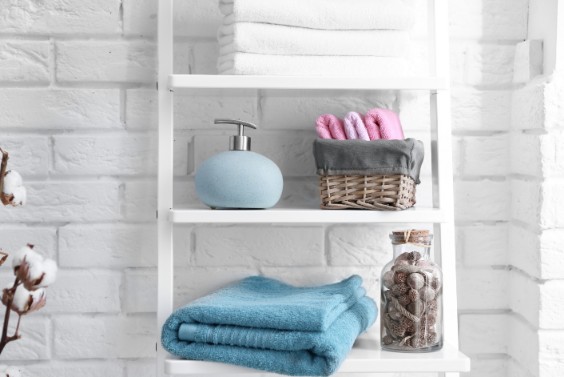 ---
Bathrooms serve a lot of functions in the home, and we spend a lot of time there. From en suits to powder rooms, having a comfortable and inviting space is important in any home. Furthermore, a nice bathroom can be a huge selling point when you're putting your house on the market. Regardless of your reasons, even if you don't have time for a full remodel, you can make your bathroom a masterpiece with these simple tips.
Add More Storage
No one likes a messy bathroom. Having tons of hair care products and makeup strewn about everywhere can make your space feel cluttered. The same goes for bunching towels on a single rack, or dirty clothes lying on the floor. The answer to all of these is simply adding more storage. You don't have to buy cabinets or expensive shelves to do this. There are plenty of options under $100 that will not only help your storage issues, but give your space a little more sophistication.
Over-the-toilet units are great way to add storage space in an area you may not be utilizing. Hanging an additional towel rack can do wonder for decluttering your space. Even organizing your beauty and health products in decorative baskets goes a long way in keeping your space clutter-free.
Spruce Up the Decor and Accents
This isn't a huge project, but you might be surprised at how much these little touches can really freshen up your bathrooms. Try to keep decor to a minimum. You don't want to run into the clutter problem we discussed above! Choose artwork, photos, shower curtains or even regular curtains that all mesh with your bathroom's color scheme.
Not a huge fan of the colors in your bathroom? If you don't have the money to replace tiles, you can always paint them to meet your needs. Make sure to use a lot of primer and latex-based paints so it holds up better over time.
Remodel Your Bathroom with Super Terry
If you're looking to do more than just touch up your bathroom, learn how Super Terry can  Contact us today to learn how we can help.