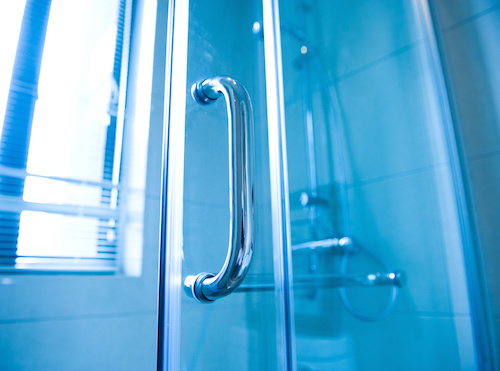 ---
Are you working on a bathroom remodel in the next several months? If so, you'll be making some  important and difficult decisions in the coming weeks. If you're planning to install glass shower doors as a part of your bathroom remodel, then one of those decisions will be whether or not to install frameless or framed glass shower doors. Understanding the differences between these two products can help you decide which kind of shower door is right for you.
Weight
Frameless shower doors must be strong enough to support themselves, which means that they're significantly thicker than framed shower doors. Granted, they don't actually look bulkier, but they're far heavier than shower doors with frames. Whereas a shower door with frame may weigh around 45 or 50 pounds, a frameless shower door can weigh as much as 70 pounds.
Installation
All that extra weight can make a DIY installation for a frameless shower door much more difficult. If you're thinking about installing your own shower door to save money, you'll probably have a much easier time installing a shower door with frames.
You can see the framed shower door installation here on this YouTube video:
If you're interested in installing a frameless shower door, take a look at this video:
https://www.youtube.com/watch?v=xnj1q8Idsh4
Visual Clutter
Framed shower doors add extra lines to the visual field of your bathroom. Unless you've found a way to strategically incorporate aluminum lines produced by the frames into your bathroom decor, the frames will simply distract from the overall design of your bathroom. By contrast, frameless shower doors have a contemporary, minimalist look that can be used in basically any bathroom.
Expense
The clean simplicity of a frameless shower door makes this product the go-to shower door option for homeowners concerned with aesthetic beauty. Perhaps this is why frameless shower doors are a more high-end, expensive item. In fact, framed shower doors can cost as much as 40% less than their frameless counterparts.
Ease of Maintenance
Frameless shower doors have fewer seams and angular parts which makes them easier to clean. While framed shower doors tend to develop a buildup of minerals and deposits around the frames and edges of the doors, frameless shower doors are simple to clean after every shower and during routine house cleanings.
At this point you may be starting to realize that there's not a single "better" option when it comes to framed or frameless shower doors. For homeowners on a budget, framed shower doors offer quality at a relatively affordable price. For homeowners who care more about the appearance of their shower doors and less about the price, frameless shower doors are almost certain to be the best choice.
For more information about which shower doors are the best for you, or for help with the installation, contact Terry's Plumbing. We're happy to help all our customers make these big, important decisions.