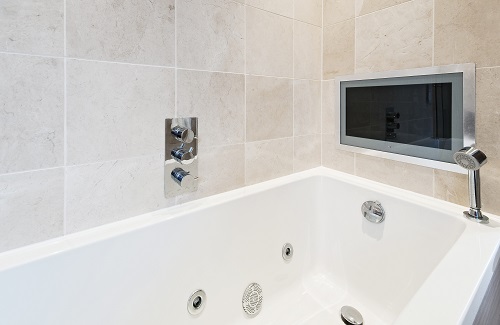 ---
As another new year gets going, we started thinking about all the new innovations we're excited to see in 2019. Believe it or not, bathrooms are getting smarter, and proving they're not just a place to shower, but a destination you won't want to leave! Here are just a few things we're excited about.
Hi-Tech Appliances and Fixtures
It seems like every room in the house has gone through a "smart" evolution. Entertainment systems and computers have improved our living spaces, and every kitchen appliance comes with high-tech features. So why not the bathroom?
Everything from automated faucets to sensor lights are becoming much more popular in bathrooms. Toilets are even getting smarter! While new tech is fun, it can also provide more efficient and eco-friendly solutions, too. Smart toilets, showers and sinks can help regulate water consumption, keep seats warm when needed, turn themselves off and much more! How's the old saying go? Work smarter, not harder.
Bathroom Entertainment and Productivity
For some of us, missing even a single second of our favorite TV show or sporting event is not an option. For others, a bathroom break means stepping away from an important task. Luckily, designers and innovators have been listening. People are adding TVs and smart hubs to their bathrooms to stay better connected to the outside world. You may have already seen touchscreen mirrors with TVs built right in!
People are adding surround speakers, programmable lighting, and even telephones near the toilet or tub. With so many entertainment and productivity options, you might never need to leave your bathroom again!
Automated Bathrooms
With all the amenities people are adding to their bathroom, they're sure to be spending a good amount of time luxuriating in the space. However, for those quicker trips to the bathroom, there are plenty of ways to make things more efficient. This includes automating pretty much every aspect of your experience. Motion sensor lights that turn on as soon as you enter the room and turn off when you leave, automatically lifting toilet seats and faucets that run when you use them without touching anything.
Imagine settling in for a nice long bath. Your music and lighting turn on automatically, and your  tub fills up without turning a single tap. Your hydro and aromatherapy presets are ready, and all you have to worry about is enjoying yourself. These advances are here and ready to help you get the most out of your bathroom.
Super Terry Can Help with Your Bathroom Reno
You might not be going for a full bathroom overhaul, but that doesn't mean you can update your space. Super Terry has the skills and experience to help you with whatever project you want to tackle. Contact Terry's Plumbing today to get started.