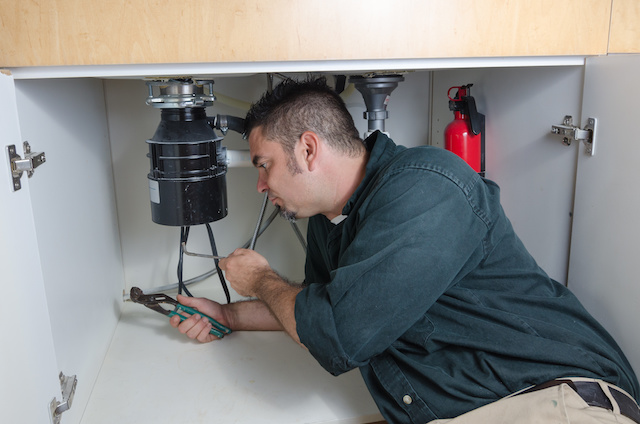 ---
Garbage disposals are great. It certainly helps during the cleanup portion of dinner. Many sinks today are equipped with garbage disposals already, but if you find yourself buying one and deciding whether or not to try and install it yourself, then you should read this first. If you're not exactly DIY savvy, you should have a professional install it. If you are the DIY type,  this step-by-step process should be very helpful during your garbage disposal installation.
Turn the Power Off and Get Rid of the Old Drain / Pipes
The first thing you should do is make sure you turn off the power to your kitchen. After that, simply unscrew the pipes and remove the sink strainer.
Installing the New Drain
Now that you've removed the old drain, grab the new drain and coat it with plumber's putty around the flange.  Then put it into place.
Where it Gets Tricky
Next you will want to stack the fiber gasket, backup flange, and mounting ring. Once you've done that, slide the stack onto the underside of the flange. Pull the snap ring open and into place. Tighten the screws evenly so they're firmly against the backup flange.
Almost There
This step is fairly easy. Just use a hammer to knock out and remove the drain plug from the inlet of the disposal. Then remove the cover plate and match up the electrical wire colors. Push them back in and put the plate back on.
Final Step
When you're finally ready to connect the drain, just insert the gasket into the discharge tube with the flange and bolts. Align the mounting rings and lock the tabs over the ridges. Connect the dishwasher, ensuring your discharge pipe is lined up properly. Then  connect your drain pipes. Lastly, turn your power back on and give it a shot.
Also, if you'd like to see a step-by-step instructions including pictures, take a look at this resource from Lowes.
Contact Terry's Plumbing
Do you need to make upgrades to your bathroom? Contact Terry's Plumbing! As your reputable plumber in Pittsburgh, we can help you make your bathroom more like a spa in the coming year. Call today at 412-364-9114.