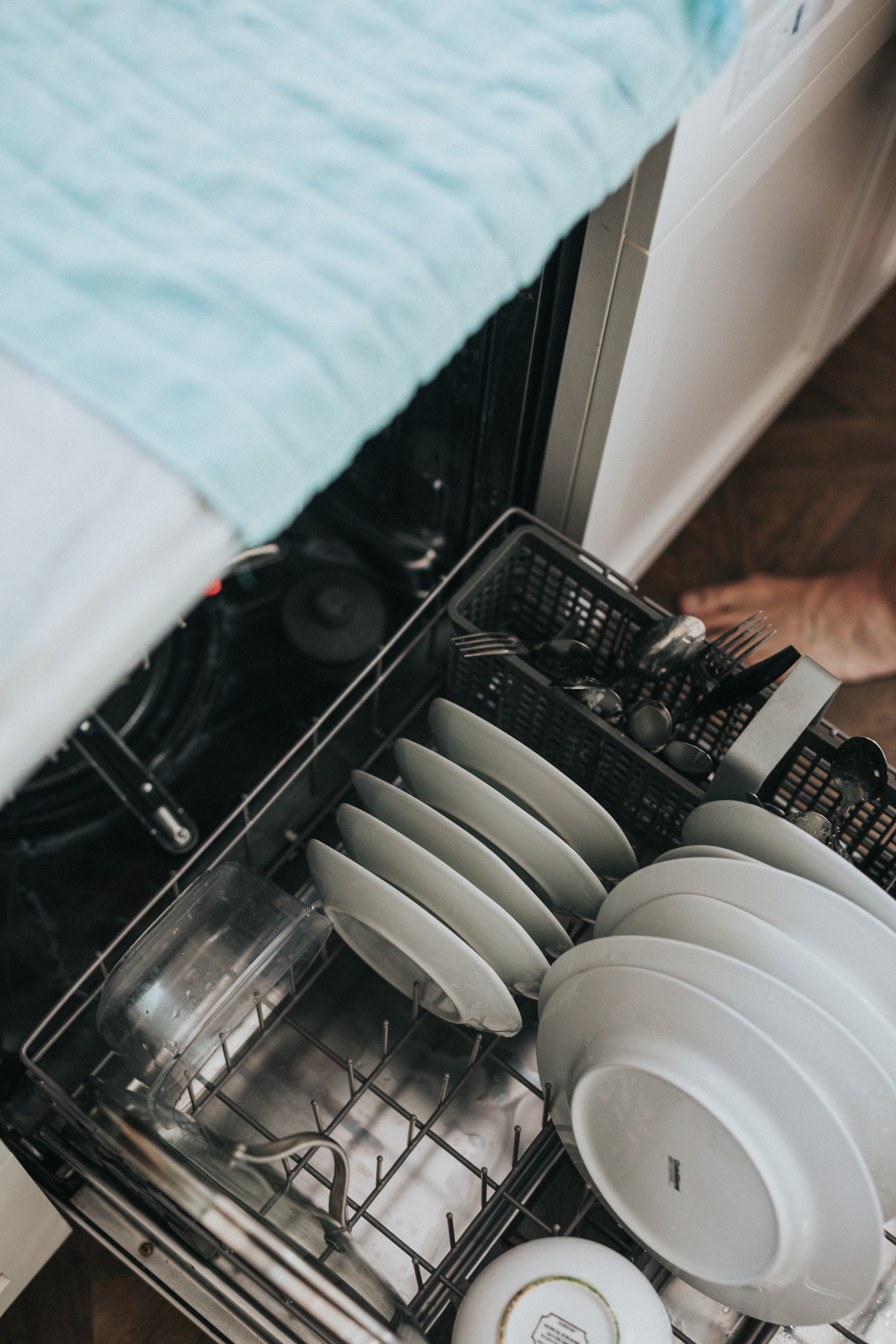 ---
Have you ever wondered what kitchen items are dishwasher safe? If so read our list before you toss everything but the kitchen sink into your dishwasher.
What does Dishwasher Safe Mean?
Dishwasher safe is a very common phrase that anyone would recognize–you may have even seen it stamped on the bottom of some cups and plates. What you probably don't know, is that the phrase "dishwasher safe" means something different than you think it does. It essentially means that the item has been treated at a certain stage in its production process. This treatment is done to ensure that the prolonged high temperatures of the dishwasher, and detergents, don't compromise the integrity or lifespan of the item.
Check Labels
Unfortunately, there is no universal symbol that manufacturers put on dishes or glassware to mark something dishwasher safe. Instead, most companies just engrave "dishwasher safe" onto the bottom of the item or instead make a note of it in the care directions. One important factor to keep in mind when reading labels is if an item is marked "top rack only".
This means it is only safe to wash in the dishwasher if it only placed on the top rack. If you place an item marked "top rack only" on the bottom rack, there is a good chance the item will become discolored, warped or melted by the end of the cycle. This is due to the heating element in the dishwasher–heating elements are found on the bottom of the dishwasher making the bottom rack hotter than the top.
Materials/Items that are Dishwasher Safe
Aluminum – Aluminum is dishwasher-safe; however, high water temperatures and detergents can affect it's finish and make it dull.
Stainless-steel – Things such as sheet pans, cooling racks and muffin tins can be put in the dishwasher, but only if your dishwasher has a "delicates" setting. This would lower the temperature within the dishwasher and lower the chances of your items becoming dull or warped.
Ceramic – Most plates, bowls and mugs are made of ceramic and are mostly dishwasher safe. We say mostly because depending on the designs and manufacturer the safest route could be handwashing.
Glass – Glass is always dishwasher safe and can be placed on either the top or bottom racks.
Plastic/Silicone – Certain plastics are dishwasher safe; it just depends on the manufacturer's recommendations. Plastics vary in their capacity to withstand high temperatures and detergents–it's recommended to load them on top rack only.
Dishwasher troubles?
Call Super Terry today for your dishwasher emergencies. Whether it's an install, leak or draining issue we can have your dishwasher working perfectly in no time.