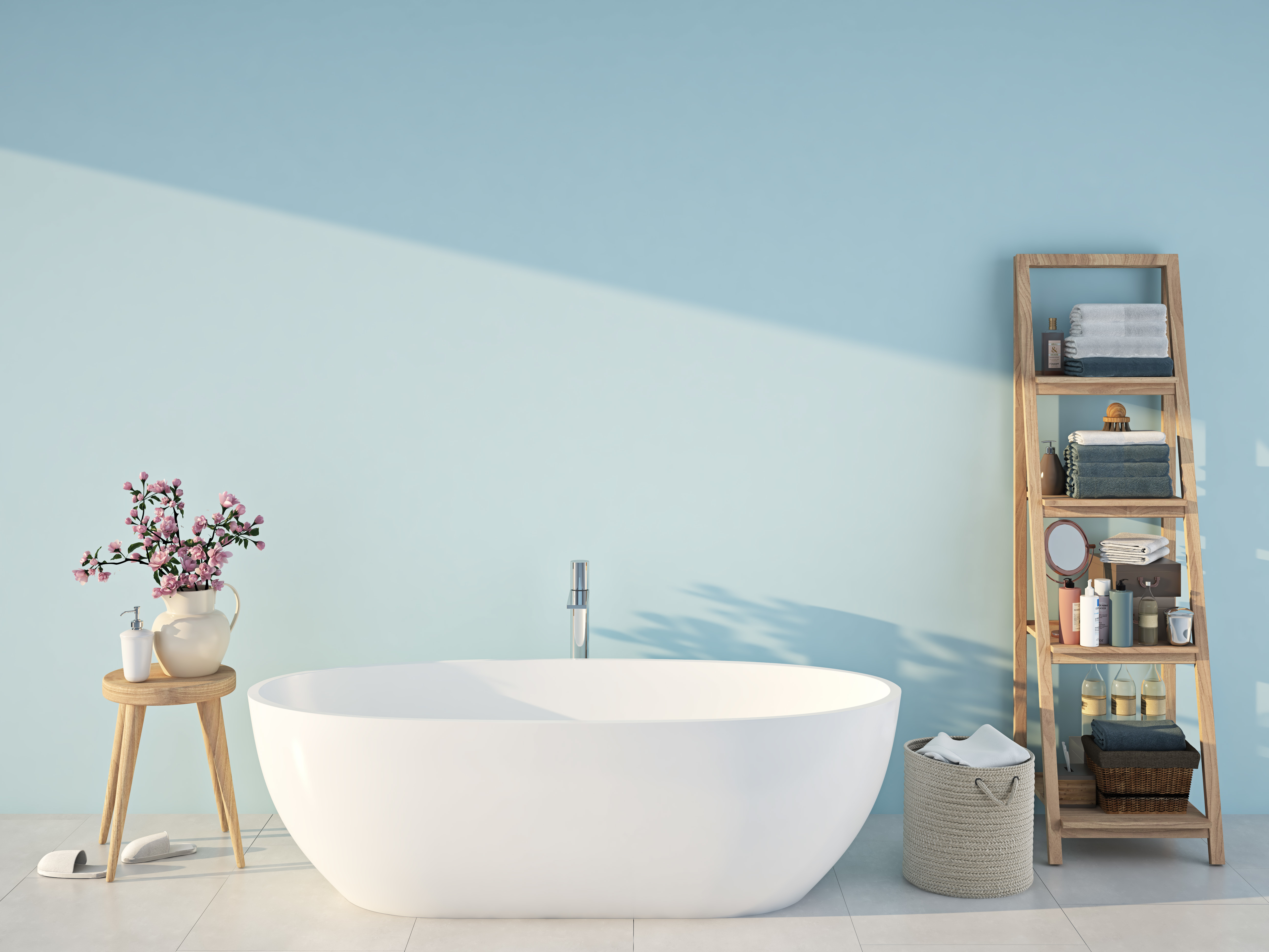 ---
Don't you just love going to the spa? Wish you could take it home with you? Now you can! Turning your bathroom into a spa is easier than you think. With the addition of some smart fixtures and making the right decorating choices, you can make your bathroom become a more beautiful, comfortable spa-like environment.
Choose Peaceful Colors
Decorate your bathroom with calming, natural colors like sage green and blue-gray. You might need to repaint or re-tile to get the overall look you want, and if you're on a budget,  replacing towels and mats can be just enough.  
Bring In Nature
Add a few potted plants to your bathroom. Orchids do especially well in bathrooms because they like the humidity. These flowers also have a very spa-like appearance because they're exotic and elegant.
Install a Massaging Shower Head
A massaging shower head is a great way to end or start the day. And installing a new shower head is easy; all you have to do is unscrew the old showerhead and screw on a new one. You might have some trouble if your shower head is very old and hasn't been removed in a long time, so contact a plumber if your shower head feels stuck.
Add Sound
Did you know that some shower heads actually play music? Products like the Kohler Moxie make it possible to listen to relaxing sounds of nature, or soft, soothing music while you spend peaceful time in the bathroom. For those who like to listen to music on their smartphone while in the shower, this is an excellent alternative because it prevents water from getting into your phone.
Add Fresh Scents
Place potpourri in strategic places around the room to make your bathroom smell fresher and more relaxing. You'll need to change the potpourri occasionally, to ensure the scent stays fresh and the potpourri doesn't get dusty or faded.
Remove Clutter
Clutter can make your bathroom a far less appealing place to spend time. If your bathroom vanity is constantly covered in products and hair accessories, invest in baskets to keep your counters clutter-free.. Has it been a while since your bathroom was updated? Think about installing a new vanity with more counter and storage space.
Decorate With Candles
Candles make your bathroom seem warmer and more exotic. Place a candle on your vanity, and another candle or two near your bathtub, to make lighting it easier the next time you take a long soak. If you have small kids, consider getting artificial candles instead of real.
Get a Towel Warmer
Towel warmers make your bathroom experience more enjoyable! These products are designed to keep towels warm while you're showering, so you'll have something warm to wrap around yourself when it's time to get out.
Install Heated Floors
What's even more luxurious than a towel warmer? Heated floors! Imagine stepping out of your shower and onto a warm, comfortable heated floor. This source of radiant heat makes your whole bathroom a more desirable temperature when you're toweling off.
Contact Your Plumber
Do you need to make upgrades to your bathroom in 2018? Contact Terry's Plumbing! As your reputable plumber in Pittsburgh, we can help you make your bathroom more like a spa in the coming year. Call today at 412-364-9114.