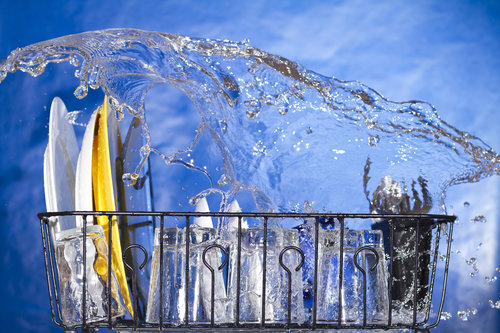 ---
Dishwashers need little regular maintenance in order to do their job. However, there are a few things you can do that can extend your dishwasher's service life. The following tips will help you care for your appliance and keep it running efficiently.
Scrape Food Off Before Loading
New dishwashers don't require you to rinse the dishes before putting them in the dishwasher, but they still do require that you scrape the food off using a rubber food scraper. Failure to get the big chunks of food off of the dishes can result in clogs, reduced efficiency, and a shortened service life for your appliance.
Maintain the Gaskets
The gasket creates a seal that keeps water from leaking out on the floor while the dishwasher is in use. If the gasket deteriorates, you may notice a water leak every time you run your appliance. Check the gasket periodically for cracks, mold and mildew. If the gasket is dirty, clean it with a sponge wetted with vinegar. If the gasket has become brittle or broken, it will need to be replaced by a repair professional.
Level Your Washer
Your dishwasher needs to be level in order to run efficiently. To check that your dishwasher is even with the ground, place a bubble level inside of the washer, then adjust the legs of the dishwasher until the appliance is properly leveled.
Clean the Screen
Basically every brand and model of dishwasher has a screen or filter designed to catch food and waste. This screen needs to be cleaned periodically to prevent clogs. Locate the screen inside your dishwasher and clean it out periodically. If the screen is removable (most of them are) then take it out and rinse it under a spray of hot water. If the filter needs to be cleaned, soak it in hot water and dish soap, then scrub gently and rinse.
Maintain the Sprayer Arm
The sprayer arm inside the dishwasher is what sprays and cleans the dishes. To prevent the sprayer arm from becoming clogged, remove the sprayer periodically and clean it with warm water and detergent or vinegar. You may need to soak the sprayer in warm soapy water to get it fully cleaned.
Clean with Vinegar
Your dishwasher may start to smell like mold, mildew or rotten food. If this happens, put a couple cups of white vinegar inside your empty dishwasher and then run it on the "hot" setting. Cleaning your dishwasher on a regular basis will help prevent clogs and will prevent odor problems.
Avoid Overcrowding
Overcrowding your dishwasher can reduce its efficiency and result in less than clean dishes. Avoid packing the appliance with too many dishes. Keep in mind that big bowls, cookie sheets and other large pieces tend to block the spray of water coming from the arms and can prevent the flow of water from cleaning the other dishes.
Soften Water if Necessary
Hard water can cause a buildup of minerals inside the sprayer and pipes that feed water into the dishwasher. If this isn't fixed, your dishwasher's service life may end prematurely. You'll know if your home has hard water because your dishes will start to develop white, crusty stains. To fix this problem, have a water softener installed in your home.
Contact a Plumbing Professional for Help
At Terry's Plumbing, we've been fixing plumbing problems for over over 30 years. If your dishwasher becomes clogged, we can help you get your appliance back into service. For more information, contact us at (412) 364-9114.