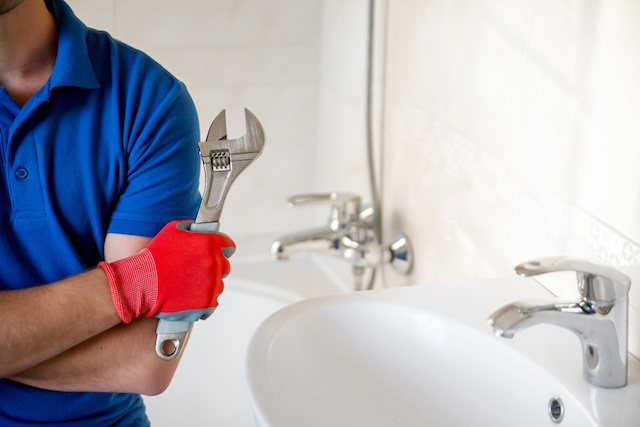 ---
Plumbing issues come up over the course of time. Whether you have a brand new home, or you've inherited a home built 100 years ago, chances are, you're going to have to hire a plumber at some point during your homeowner adventure. It's important to ask the right questions when contacting a plumber to ensure they're qualified, capable and reliable.
Experience is Key
It's a general rule of thumb that the more experience you have, the better you are. Sure, there are exceptions to the rule, but for the most part, an experienced plumber is a good plumber. If you need to hire a plumber, ask them how long they've been in business. It also wouldn't hurt to ask for a reference or two. The best way to find out if someone can get the job done is to talk to someone who's already been through the process with the plumbing company you're talking with.
Reliability
This is a huge consideration when hiring anyone for any job. There are hundreds of horror stories of someone hiring a general contractor, plumber, etc., and that person promised to have the job done by a certain date but didn't  deliver – or worse, simply disappeared.
Reviews are your friend here. There are numerous opportunities for customers to leave a performance review. You can check Facebook, Google or Yelp. For example, if you search "Plumbers in Pittsburgh" on Google, you'll see a list of plumbers and an average rating based on a five-star system. Read the reviews and look for common trends. Also, don't just rely on one or two reviews. Take a look at them all and read the accompanying comment.
Availability and Pricing
Many plumbers, especially the really good ones, may have limited availability for bigger projects. If you're looking into bathroom remodeling or other projects that aren't just one day projects, then it's important to find out when the plumber can fit you in.
As for pricing: most reputable companies are transparent with their pricing and will let you know exactly what it's going to cost up front. Obviously, prices could change if anything comes up during the job, but the plumber should communicate any issues to you and explain why it will cost more.
Give us a call. You won't be disappointed!
When in doubt, give us a call at Terry's Plumbing! As your reputable plumber in Pittsburgh, we can help you with your plumbing-related issues. Call today at 412-364-9114.