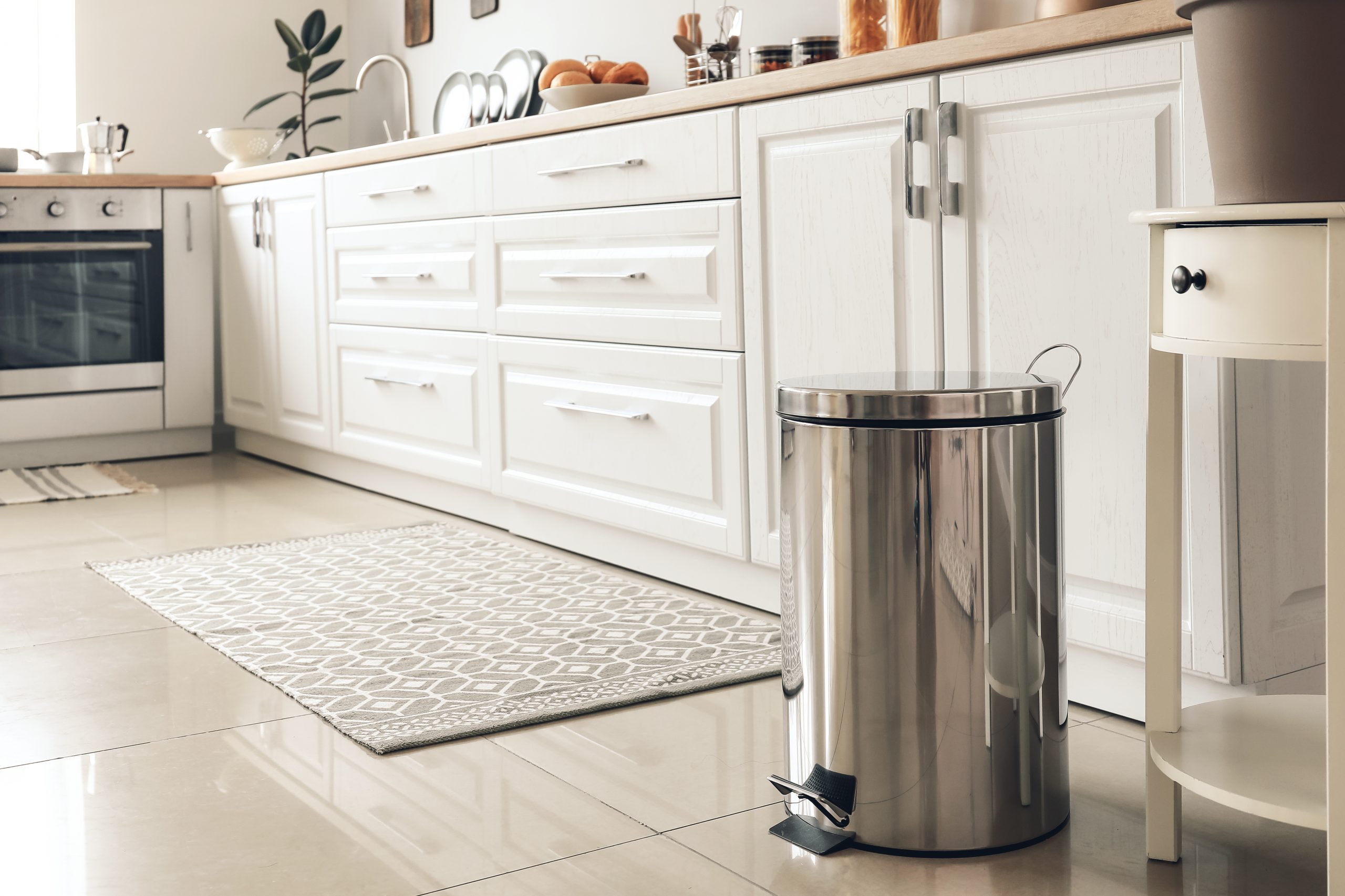 ---
Garbage piles up after cooking, cleaning, and simply living day to day. Managing that trash can be a hassle without a proper trash can. A top-quality trash can seals in all the smells and keeps bugs out. Whether you've just moved, or need to buy a replacement trash can, continue reading our blog for tips that will help you navigate your options.
Considerations
Select your size – The standard can size for households is 13-gallons. These are normally large enough to accommodate big items, but won't take up floor space. However, if you live alone or generate very little trash, a smaller 8-gallon can could work for you.
Pick your material – Trash cans are made out of all kinds of materials, the most common being heavier plastics, PVC, or stainless steel. Plastic and PVC cans tend to be the most affordable options, while metal trash cans cost a bit more.  But you get what you pay for–which is why stainless cans have different features, come in many models, and could even be painted a custom color.
Lid or no Lid? – The answer to this question is super simple, ALWAYS have a lid. The lid holds the trash bag in place, locks in odors, and keeps out curious pets. Some models feature dome lids with swinging doors, while others have lids attached by hinges which are opened by foot pedal or automatically with a wave of your hand.
How much Should you Spend?
Budget trash cans – These trash cans normally are $20 and under. For that price you can find a decent plastic or PVC can with a dome lid or foot pedal.
Mid-range – Trash cans in this range are normally $50 to $120 for a stainless steel can. Additional features can include sensor lids or additional compartments for recycling.
Expensive – These high-end trash cans cost $150 or more and usually have large capacities and are made of higher-quality materials. Features that add to the cost are special trash bags designed for that specific model, or built in carbon filters that neutralize odors.
Our Top Picks
Best overall: Simplehuman 45 Liter Rectangular Hands-Free Kitchen Step Trash Can. With its sleek design, hands free operation and shallow profile this can is the best of the best. Top that off with an easy to clean exterior surface, as well as a convenient step pedal and you can't go wrong.
Runner-up: Ninestars Automatic Touchless Infrared Motion Sensor Trash Can Another trash can to consider is this touchless option from Ninestars. With a mere wave of your hand, the quick-open motion sensor will cue the lid to pop open. Other features include an easy to wipe stainless steel surface, a non-skid base, and a removable ring liner that holds the trash bags securely in place.
Best value: Rubbermaid Step On Lid Slim Trash Can for Home  This budget-friendly model will hold up to daily kitchen use. The heavy plastic bin can hold a standard 13-gallon trash bag, and comes equipped with a stainless-steel pedal for easy disposal of garbage. The lid features a ring that secures the bag to prevent slippage, and it fits snugly over the top of the bin to prevent odors from escaping.
Get Super Terry Today!
Your trash can doesn't have to be ugly and neither does your kitchen. If you're looking to renovate your kitchen and breathe some new life into it, give us a call today!