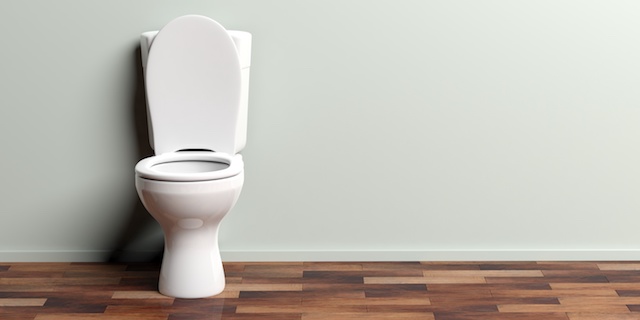 ---
You're sitting in the living room watching your favorite sitcom. Your wife turns to you and says, "Honey, what's that noise?" You put the TV on mute and now you can hear it too. It sounds like it's coming from the bathroom. Now, if you're lucky enough to have DVR, you pause the newest episode of This is Us and you head to the bathroom. It's the toilet. It's leaking.
Again.
You mess with the handle, it stops after a few seconds and you head back into the living room. Your wife says, "I thought you fixed that last weekend?" You thought you did too. Do I call a plumber?
Not yet.
Give these tips a try to finally get rid of that nagging issue with your leaky toilet.
Try replacing the tank flapper
There are numerous reasons why your toilet may be running. One them has to do with the tank flapper. You know, that rubber flapper at the bottom of your toilet. Has it been a while since you got a new toilet? Have you ever replaced it before? It might be damaged.

When the tank flapper is damaged it causes water to seep around it. Replacing the flapper is actually quite simple thanks to this article from Today's Homeowner.
Turn off the water to the toilet

Flush the toilet

Disconnect the chain from the flapper

Replace the flapper

Reconnect and adjust the chain to the flapper

Turn the water back on
If your toilet is still running after replacing the tank flapper try adjusting the water tank level. To do this just turn the screw on top of the fill valve to adjust the float in the tank. You should adjust it so the water level is roughly 1" below the top of the overflow tube.
Adjust the chain
Sometimes your toilet is running because the flapper chain becomes tangled. It may also be too short, or too long. If the chain is too short the flapper won't close and water will leak back into the toilet bowl. If the chain is too long the flush rod won't open the flapper wide enough for a full flush.
The chain should leave just a tiny bit of slack when closed. Keep adjusting until you find the perfect length.
What if it continues to run?
If you've tried these three methods (or if you just don't want to), give us a call. We'll come out and stop your toilet from running.