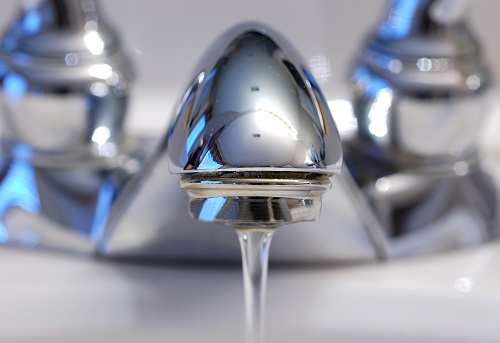 ---
Is your bathroom starting to look a little dated? It's an easy fix. Most of the things in a bathroom that we find antiquated are really fixtures. Unless you want to rip out the tile and replace the tub, updating a bathroom could be as simple as purchasing some new handles, faucets and shower heads. Here's how to get started.
Make a List of Your Current Fixtures
When you change out your fixtures, it's best to change them all out. After all, you don't want a bunch of mismatched drawer pulls. Begin by making a list of all the fixtures in the room, and don't forget the lighting! Bathroom lights are one of the most important focal points to a room. Your typical fixtures likely include: a shower head, sink faucet, cabinet pulls, drawer pulls and lights. You may also have mirror frames or picture frames.
Ideally, you don't want to mix metals. All of your fixtures should be the same color and same texture; polished chrome goes with polished chrome, not brushed chrome.
Look Into Low Flow, High-Efficiency Fixtures
Both faucets and shower heads come in low flow, high-efficiency versions. Not only will you use less water, but you'll also experience the benefits of higher water pressure. Shower heads, in particular, can take advantage of this: you can get "rain" style shower heads even in a home with relatively low water pressure.
Consider the Color of the Room
When switching from gold accents to silver accents, or from brushed chrome to antiqued bronze, you need to consider the current color of the room and its accents. This is true whenever switching from a warm color to a cold color, or vice versa. If you don't change the color of your room, you may find that your accents appear to "clash" a little with your paint color. You may also want to consider the color of the tub, which you can change through a refinishing if you don't want to replace it entirely.
Don't forget that trends do change over time. Some things are timeless: brushed chrome, stainless steel and bronze. Other things, such as bright copper and brass, tend to go in and out of favor. If you want your renovation to last a long time, consider accents that are frequently in style. You can find out what's selling in your area by contacting Terry's Plumbing today.
Give us a call. You won't be disappointed!
When in doubt, give us a call at Terry's Plumbing! As your reputable plumber in Pittsburgh, we can help you with your plumbing-related issues. Call today at 412-364-9114.