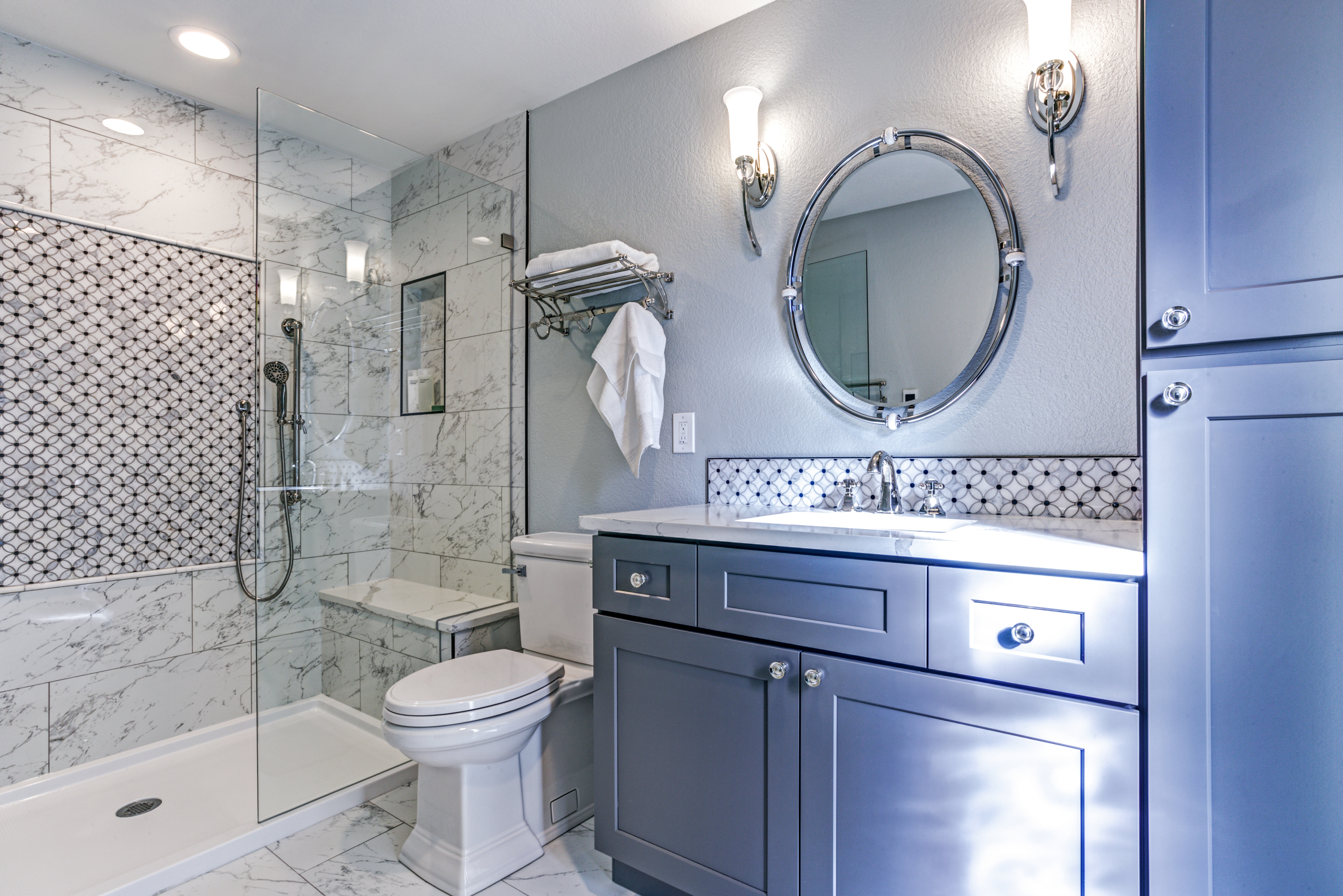 ---
Should you repaint or refloor? Is it better to change out bathroom fixtures? You can redo a bathroom from floor to ceiling, but lower-end updates don't add much value in the end. While return on investment will vary depending on where you live, we have the inside scoop on the biggest value adds in a bathroom remodel. 
Update the Vanity
Washing your hands, brushing your teeth, applying makeup. We spend a ridiculous amount of time in front of the bathroom vanity, so it should be functional and modern. Making a few key changes provides upfront benefits to enjoy now, plus a return when you go to sell your home. 
Sinks and Faucets
His and her sinks are still on the must-have list for bathroom features. And why not? Double basin sinks make sharing the bathroom easier, as couples are better equipped to efficiently handle their personal hygiene and maintenance without fighting over the space during the hectic morning routine.
Sink and faucet projects provide expanded functionality, and an excuse to update the bathroom fixtures, too. You get the benefits of an updated look with metal finishes, like polished nickel and chrome, as well as improved water efficiency with faucet aerators. 
Counters
Give some love to the counters in your bathroom. Today's homeowners look to a few key features in bathroom counter space, like height and surface. No one wants to bend all the way over to brush their teeth, so waist high is a good minimum for bathroom counters. Of course, just like any other home feature, solid materials count. Granite counters are prized for the bathroom just as much as for the kitchen, and are among some of the higher end value adds in a bathroom remodel. 
Tub or Shower? Modernize.
Just a few years ago, elegant jacuzzi tubs were on the must-have bathroom list. Today, homeowners are more concerned with economy of space and efficiency. Why? Luxe soaking tubs don't get used frequently, between lack of leisure time and the need for tub maintenance. Showers are the major value adds in a bathroom remodel, as they better reflect individual needs and leave more room to move around. 
Steam Shower
The jacuzzi tub's modern cousin, a steam shower, provides a way to pamper yourself. Need to unwind? Steam showers afford the opportunity to get into relaxation mode in little time, with features like in-shower radios. Dial it up a notch with some aromatherapy, too. 
Walk-In Shower
If space is less of an issue, and the larger idea is to have a king- or queen-sized shower space, go for a walk-in shower. It's also a solid option when you can't have a tub and shower in a small bathroom. Rainfall shower heads and pristine tile work create a relaxing oasis, while glass enclosures provide the illusion of space and openness in the bathroom overall. 
Add Another Bathroom
Do you only have one bathroom in your home? If so, forget everything else and focus instead on adding another one to your home (budget permitting). Adequate bathrooms are sky high on the list of value adds in a bathroom remodel, and if you're looking to sell, it's a no brainer. Home buyers prioritize having more than one bathroom to use over simple updates. It's a pain to fight over the bathroom to begin with, and the odds are good that guests will visit too, so the renovation will be a long-term boost. 
Powder Room
It helps to have at least two toilets in the home (Pittsburgh potties aside). A powder room offers a small space to freshen up, including a toilet and sink/vanity. While it doesn't have a shower or bathtub, a powder room is perfect to accommodate family members who have to visit the loo at the same time and also provides a restroom area for daytime guests. 
Full Bath
If there is only one full bathroom in your home, it's probably adjacent to the master bedroom. A helpful idea, especially for growing families, is to add a second full bath off the master bedroom. The space will be easily accessible to children and make it easier to expedite everyone's bathroom routines. And if you're in the market to sell soon: adding a bathroom boosts sale prices by about 9 percent.
Call of Super Terry for Your Bathroom Remodel
Bathroom updates and remodels can add a tremendous amount of value to your home, personally and financially (when it comes time to sell). Whether it's knocking down a wall or two to craft a new bathroom space or simply updating a few fixtures, Terry's Plumbing is your go-to for bathroom renovations. Get in touch with us to discuss your needs, and we'll work within your budget to produce quality results.