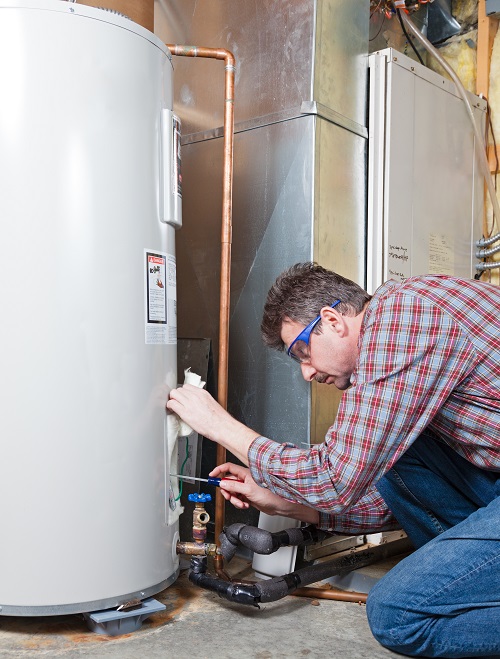 ---
Water heaters don't last forever, so if yours bursts, you may panic and not know what to do. But before you call us at Terry's Plumbing, there are some essential steps you need to do to avoid further damage and flooding to your home.
Turn It Off
If you have an electric water heater, can safely turn it OFF at your electrical box by finding the circuit breaker marked "Water Heater.". If you have a gas water heater, locate the thermostat and turn it from the ON position to the OFF position.
Shut Off the Water
Your next step will be to shut the water off. You can do this by locating the cold water pipe that feeds into your water heater and turning the water heater valve clockwise. If the valve is stuck open, you'll have to locate the valve to your home's main water supply and shut it off.
Take Photos of Everything
You'll need to take photos of the water heater and the damage it did for insurance purposes. Do this now so that you have a record of what happened.
Move Everything Away From the Water Heater
If you have boxes, furniture, and other items near your water heater, you'll want to move them to begin the process of salvaging your items. At the same time, you'll want to keep everything as far away from the water heater to prevent further damage.
Call Terry's Plumbing
You'll need to contact us if your water heater bursts. We're available 24 hours a day, seven days a week to assist you. Call us at 412-364-9114 for emergency service. We'll be out there to replace your water heater.
Contact Your Homeowners Insurance
Many homeowners insurance plans handle things like flooding due to a burst water heater. They may send out an adjuster and a restoration company to handle any damage to walls and flooring.
Clean Up the Excess Water
If you have a wet vac, use it to start cleaning up some of the mess while you wait for us to come by and replace your water heater. You can also use towels and a mop to start to get things dried out.
For more information on what kind of water heaters we carry, check out our water heaters on our website at Terry's Plumbing.
Give us a call. You won't be disappointed!
When in doubt, give us a call at Terry's Plumbing! As your reputable plumber in Pittsburgh, we can help you with your plumbing-related issues. Call today at 412-364-9114.